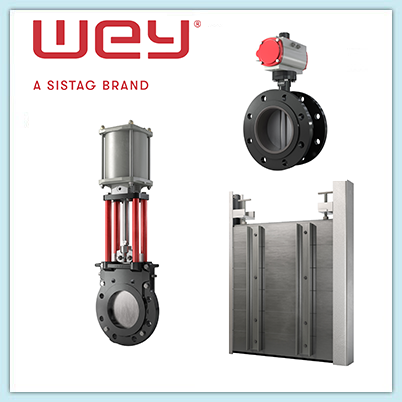 The SISTAG WEY knife gate valve, of a unique valve design, assures life-long reliability and bubble-tight shut-off attributed to the joint action of various factors during the closing stage.
Features:
Tight shut-off by sealing function on the lateral gate side
Gate guides on full stroke length
Knife-like gate that shears off remaining solids
Enlarged flushing corners prevent jamming during closure
Transverse seal eliminates stuffing box ensuring no leakage to atmosphere
Minimized chest area prevents solid build-up/jamming by tightening packing screws without system shut-down provides cost savings in maintenance.
The Penstocks are designed to DIN 19569-4, with frame to be embedded in concrete channel wall or wall mounting.
Features:
Welded construction
Stainless steel frame
Two lipseals arrangement with scraper in front of transverse seal